I have wanted to start a book study at my school for such a long time but no one wants to study a professional book. I am a nerd when it comes to professional development!! I can't get enough of professional development books, conferences, and workshops. So, when I read about this book study over at Mrs. Ehle's Kindergarten I was very excited.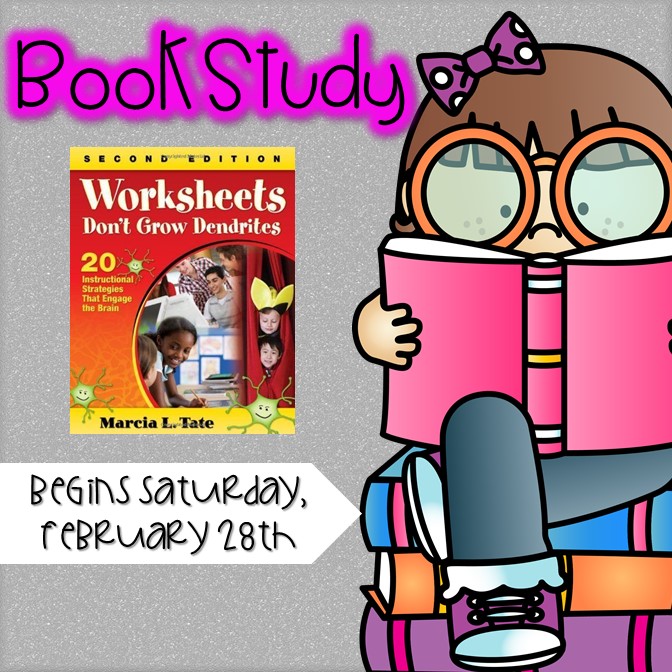 I bought the book on Kindle, because I had to have it right away. I wish I had bought the hard copy though so I could underline, make notes and highlight the things I find important. In a hard copy you can go back and forth when you want to remind yourself of something you have already read and if there is something you want to re-read. Oh well, I will have to wait to get the hard copy and deal with my kindle copy :)
Ok, Elizabeth Hall of
kickinitinkindergarten
is beginning the book study with an overview of chapter 1 & 2 of the book. She also has a linky party going for all those who want to participate and give their opinion, how they already use some of the ideas, or how they will implement the idea's into their own classroom.
Chapter 1 - Brainstorming and Discussions
I enjoyed this chapter since we do a lot of brainstorming in our classroom. Anytime we begin a new theme or skill we brainstorm all that we think we know about it and what we want to know about it. With 4-5 yr olds they still need some guidance and a little help with getting started and staying on task, but as the year has progressed they are getting better at it.
It is the discussions that we have a hard time with. Anytime we try to do Buddy Share (our version of Think-Pair-Share) but it always dissolves into a story about how someone ate bugs on the playground, or a brother who is better than another brother. So, most of our discussions are done whole group in a circle. I try to allow time to think, but to much time means minds wandering to other matters, so we don't always complete the discussion part of it.
I have also found that even as I promote an open thinking, free environment to give opinions on subjects it doesn't always carry through to the classrooms after mine. Where worksheets and teacher directed activities take center stage. Am I doing a disservice to my students to get them in the habit of giving opinions, having discussions and being independent thinkers when they will be held back from exhibiting those traits in the years to come?? Hmmmm..... it's a thought that I grapple with from time to time.
Although I found this chapter to be a worthwhile read, it didn't really apply to my TKers, but I will try to incorporate more of the sentence starters in hopes of giving them the words needed to discuss and state their opinions or feelings about a subject.
Chapter 2 - Drawing and Artwork
Ahhhhhh.... now here's a chapter I could sink my teeth into!!! I loved this chapter and know I give my students ample time and opportunity to create in my classroom. Being an Early Childhood classroom, play is our work, art is our way of conveying or assessing a lot of our skills and no one thinks twice about it. It isn't thought of as a waste of time by most people. It isn't until our children hit the elementary grades that art in the classroom isn't always appreciated. I have heard to many teachers begrudge another teacher for allowing her students to create art work as an assignment, or "All that teacher does is play all day, when do they learn?" I am sure we have all either said it, or heard another teacher say it. I see the push for more academics and less creative arts, and Marcia Tate gives us ideas and opportunities to incorporate art right into our lessons. It does take a lot more work on our part, both in the prep and clean up, but in a well balanced classroom, where students are used to the expectations of art in the classroom, it isn't as hard as it looks.
In our classroom we use the Pictionary idea every week. We are of the Letter of the Week variety in our school. We follow Handwriting Without Tears and we tie it all together by creating a picture dictionary to go with our letters. So, if we are studying Bb, we learn our letter and sound, work on our HWT workbook, and then find that letter in our picture dictionary and write 3 words and draw a picture for each word. In the beginning of the year we have words and pictures available to the students, but by this time of the year some students are creating their own words, phonetically, and drawing their own pictures. Its amazing to see.
We also love to create books... classroom books, individual books, itty bitty books. Some are open ended, others have a specific purpose. For example, when we learned about apple trees we created both an individual book and a classroom book of what we knew about the apple tree, it's life cycle, where we find apple trees and what we do with the apples when they grow. It was amazing and each book was different. Did we have supplies available to use, yes, but each student used them differently. We had to write down words some students dictated, but others were able to write some idea's on their own. It was both awesome and it was a hard pill to swallow when "Joey" decided that his tree was growing green apples, red apples AND yellow apples, but it was his way of showing understanding that there were more than 1 kind of apple tree, his 5 yr old brain just couldn't place them all on different trees. So, allowing for some inconsistency's and looking further for the meaning can give students the confidence they need to try again, and not feel like they were wrong. I hope I'm not digressing here ;)
I love using art in the classroom. Drawing and creating are both area's of curriculum that are supported and encouraged in our TK. We use it from Math and Social Studies to Science and Language Arts... it is a tool we couldn't live without.